Although I'm a vegetarian, the rest of my family is not. We've had to work to find a balance that works for all of us.
When I cook for my family, knowing where my food comes is always important. But it's even more important when it comes to any type of animal products. How the animals are treated, how sustainable and humane the practice is, and how the product is treated up until distribution are all things that I feel strongly about.
I don't believe that we can turn a blind eye to how our food makes it to our table. Luckily as consumers today, we not only have more options to ethical farming practices, but also more information to help us make better decisions.
Besides locals farmer's markets, or a meat share, my go to option for buying animal products is Whole Foods. They use a rating system, 1-5, for how sustainably and humanely produced the product is. 5 being the most sustainable and humane.
The good or the bad, is that options for level 4 and 5 are very limited at this time. Currently I only feel comfortable purchasing meat/poultry that meets the level 4 standard. It's what works for us. This may not work for everyone, and that's ok too. What's important is that you start to pay attention and make conscious choices. Remember that ever dollar you spend is a vote to either support, or challenge the current food system.
For more information on Whole Foods 5-step Animal Welfare Rating, you can click here.
So, now on to this awesome whole roasted chicken.
I love roasting whole chickens, for so many reasons. First, it just has better flavor and holds moisture better. Second, I save the bones and make my own stock. If you've never made your own stock, I'll share a quick recipe later this week. All you need is a pot, water, bones from one left over chicken dinner and some veggie scraps and a little time. It's super easy, nutritious and better stock than you'll ever find in a box. And of course my last reason for loving a whole roasted chicken is just sheer economics. It's cheaper. So for our family, we almost always go with the whole bird.
This is a really easy recipe too. It's a one dish meal. You put some stuff in a ceramic baking dish, set your chicken on top and then forget about it for an hour and a half. It's a great Sunday night dinner. Your whole house will smell yummy and it looks pretty impressive on a table.
Here are a couple of my favorite little tricks for roasting a chicken.
Start with a room temperature chicken. So let it sit our for a few hours before you're ready to cook. Makes all the difference.
Roast your chicken while it's sitting on top of something. Really nest it in there. Don't waste those gorgeous juices. I love potatoes, big thick croutons, root vegetables, anything.
Use a short sided ceramic baking dish rather than a traditional roasting pan. The chicken needs to be "exposed" in order to brown evenly. Some roasting pans have the bird sitting to low and the sides never brown.
Butter and foil are your friend. Use butter where you need more browning and foil where you need less. As you check your bird, if there are little spots that need a little extra "goodness", add a tablespoon of butter. The milk fat with make a golden crust. If you're getting "too pretty too quick", add a small piece of foil to the area that needs to slow down the browning.
Have all of your ingredients prepped and out by your chicken so you can do everything at once and don't need to wash your hand a million times. I love to use separate little dishes for my salt/pepper/butter. Collect, collect and collect a little more -then touch your bird.
Don't skip the resting phase. Meat/poultry will always have some carry over cooking time. So the temperature will continue to increase even when it's out of the oven. Give it some time to finish up it's magic. I usually start working on my sides/salads once my bird is out of the oven. You can't rush this step, and it's critical for a tender, juicy bird.
Rinse chicken, pat completely dry, and set aside

In a shallow ceramic baking dish, combine fingerling potatoes, one clove of garlic, 1 tbs of thyme, 2 tbs of olive oil, and the slices of one lemon. Toss and set aside

To assemble chicken, place onion, garlic clove, and a sprinkle of salt/pepper in the cavity of the chicken.

Separately work to combine 2 tablespoons of butter with lemon zest, 1 tbs of thyme, one clove of garlic, salt/pepper. Carefully, work your hand under the skin of the bird and rub the butter mixture on the meat of the breast.

Truss the bird with the twine so that it's legs are pulled tightly into the body. Once the bird is stuffed, has been rubbed with butter under the skin, and has been trussed, place the bird on top of the potatoes.

Drizzle the bird with olive oil, sprinkle salt and pepper over the entire bird. cover with lemon zest, additional garlic, thyme and pads of butter. Arrange a few of the lemon slices on top of the bird.

Place in a 425 degree oven. After 30 minutes, reduce the heat to 375. Continue to cook the bird for another bird, or until the internal temperature reaches 165.

Check the bird continually throughout cooking process, cover any areas the are becoming too brown with foil.

Once the bird has reached 165 degrees, remove from the oven, let rest for 20 minutes.

DID YOU MAKE THIS RECIPE?
Tag us on Instagram @katyrexing
Use the hashtag #KRRecipe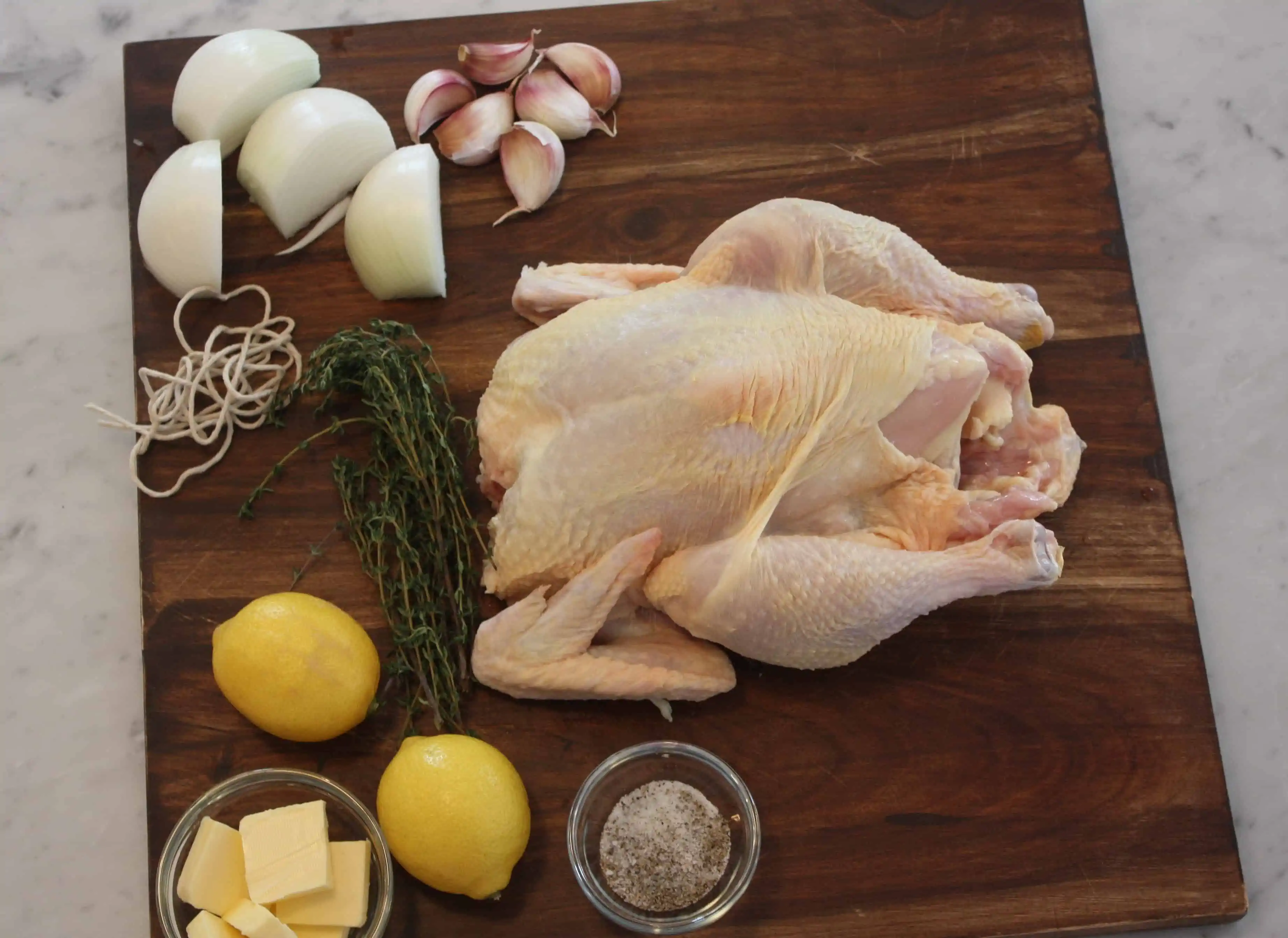 (I just found this picture from 2011 when we were living in our townhouse in Chicago…..six years later and I am STILL making the same chicken dinner! My poor family. It's a good thing it's that good. If in six years you're still making this chicken, then I'd say that this post was worth it!)