JonPaul and I went to Italy in September to celebrate our 10 year wedding anniversary. 10 years. I know, right? Kind of crazy. I have no idea how in the world we have four kids and have been married for 10 years, but yet here we are. I feel like most days we have no idea what we're doing, so the fact that we're happily (for the most part 😉 married after 10 years is cause to celebrate. And what better place than Italy.
Our trip was incredible. Magical even. The best way to describe it would be that I felt like I was living in a movie. You know that romantic comedy where the couple is laughing, strolling along the perfectly lit street and they just happen to stumble across a romantic cafe, who happens to have the best corner table available, all while the sun is setting. That was us (even the laughing part). And that is never our life – so let me just say that the magic of the trip was not lost on me. I soaked it up. Every. last. drop.
One of the best parts of the trip was by far the food. Honestly Italians just do everything better. So of course it was no surprise that everything we ate was spectacular. But the one that caught me off gaurd, was a simple rustic dish I had our first night in Rome, cacio e peppe (even the name is good, am I right?!)
The first day of our trip we flew into Rome, and headed to dinner at Pierluigi. It was the perfect way to set the tone for the next 12 days. We walked down a dark cobble stone street that magically opened up to this little piazza lined white tablecloth tables, flickering candles and a scent that drew you in. I was in heaven.
That evening at Pierluigi was the first time I had ever tasted, or even heard of, this simple dish. And by simple I mean it's literally only three ingredients, pecorino cheese, black pepper and pasta. It's as humble of a dish as they come. Yet the texture is creamy and decedent. I couldn't wait to try and recreate it in my own kitchen.
Since our trip, I have made this dish more times than I can count. Traditionally, the recipe only calls for cheese, pepper and pasta. But I love playing around and adding different things I have on hand. So far I've added fava beans, peas and then today arugula (I know JPs waiting for me to add bacon). You can really play around with whatever you like. Pretty much everything goes with pecorino cheese, so if you have a favorite bean or vegetable, add it in.
There are a couple of things that make or break this dish. First, you have to start with the best quality ingredients you can find. With only three ingredients, they each matter. So start with the best ingredients you can get your hands on.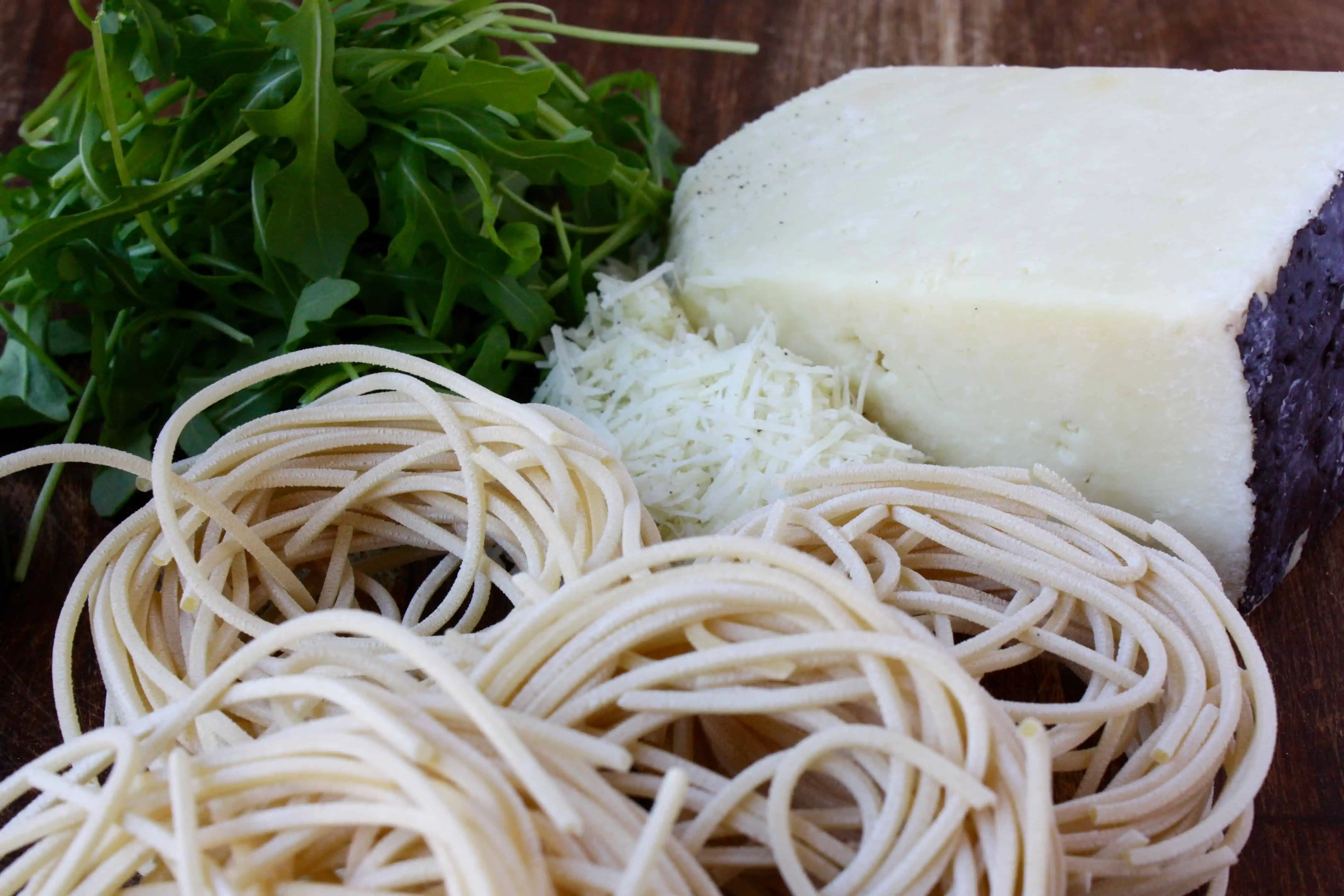 The second factor is the sauce. It's really simple, but you have to do it right. The sauce is made by quickly whisking together reserved pasta water with freshly grated cheese (couldn't be simpler, right?!). You have to really whisk vigorously and quickly so that the cheese doesn't clump. When it's done right you get a smooth creamy texture that you can't believe came from a pot of boiling water.
I love this dish for so many reasons, but I think it's simplicity is what makes it so special. It's elegant enough for weekend entertaining, but humble enough that I serve it to my kids for a quick weeknight dinner. In either case, everyone is always asking for seconds.
I don't know the next time I'm going to get back to Pierluigi, but until then, I have a little slice of Rome right here in Connecticut.
Bring a large pot of water to a rolling boil and generously season with salt (should taste like the sea). Add pasta and begin to cook according to package

Meanwhile, add 1 1/2 cups of freshly grated pecorino, along with the black pepper, to a serving dish of your choice. Working quickly, being to ladle in about a cup of the boiling pasta water on top of the cheese/pepper. Use a whisk, or the back of a wooden spoon, to vigorously whisk together the boiling water and cheese to create a smooth creamy sauce. (if the sauce is too thick, add more cooking liquid, about a tablespoon at a time).

When the pasta is done cooking, reserve an extra cup of the cooking water before draining pasta.

Add cooked pasta to the serving dish and gently toss together with the creamy sauce and a cup of arugula

Top with additional pecorino and black pepper before serving.

Enjoy!

DID YOU MAKE THIS RECIPE?
Tag us on Instagram @katyrexing
Use the hashtag #KRRecipe