Winter has officially arrived here in Chicago, which means the only things on my menu these days are soups, stews, and maybe a few cookies (testing them out for santa of course ;). This time of year always has me craving warm and cozy comfort food. I want everything hot, in a bowl, and bonus points if I can eat it on my couch in my pajamas.
This silky roasted cauliflower and chickpea soup has to be one of my favorite "curl up and get cozy" kind of meals.
If you've been following along with Grace in the Crumbs for a while, you'll know that I have a serious love for cauliflower. Maybe it's the vegetarian in me, I don't know. But cauliflower is one of my staple foods. It's so versatile, and has a flavor profile subtle enough to work with a wide range of herbs and spices.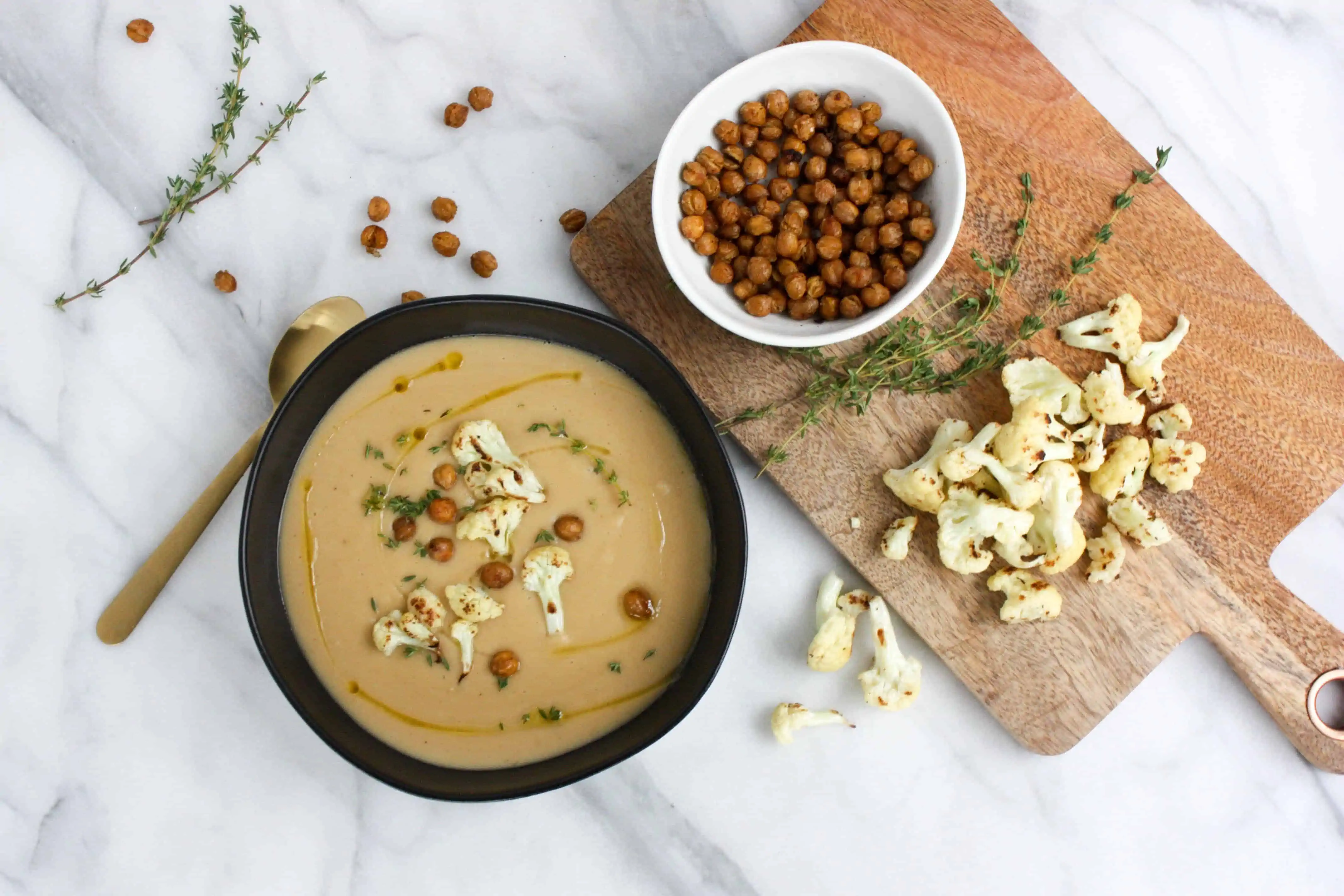 Here I combined two of my favorite spices; smoked paprika and cumin. Growing up, my mom and grandmother would make chicken paprikash with spatzle for us all the time. I can vividly remember sitting on our kitchen counter watching them as a young girl and thinking paprika was such an exotic spice. Its unique color and smell still brings up so many wonderful childhood memories I love how here the smoked paprika brings a note of warmth and depth to this delicate soup.
For body and richness I added in chickpeas and potatoes. The combination of the two create a thick silky texture, without the use of dairy. Then I finished off the soup with a little drizzle of olive oil and a few crispy chickpeas and cauliflower florets.
The combination is a soup that's silky and smooth, hearty and warm, and the perfect bowl to curl up and get cozy with.
Preheat oven to 425 degrees.

On a sheet pan, add cauliflower florets and chickpeas. Toss with 2-3 tbsp of olive oil, cumin, smoked paprika and salt/pepper.

Roast for 30-40 minutes until cauliflower and chickpeas are golden brown. Set aside.

Meanwhile, in a large dutch oven set over medium/low heat, add 2-3 tbsp of olive oil. Add the chopped onion and potato. Cook for 3-5 minutes. Add the chopped garlic. Cook for one minute until fragrant. Then add the stock.

Add the roasted cauliflower and chickpeas to the dutch oven, reserving 1/4 cup of each for garnish

Simmer for a few minutes allowing all of the vegetables/beans to come together.

Then working in small batches, transfer the soup to a high speed blender and blend on medium/high speed until creamy and silky.

Return the pureed soup to the dutch oven, add the coconut milk, a few sprigs of thyme, and taste. Adjust seasoning, adding more salt/pepper as necessary.

To serve, ladle soup into serving bowls, garnish with reserved chickpeas and cauliflower florets, a few thyme sprigs, and a drizzle of olive oil.

DID YOU MAKE THIS RECIPE?
Tag us on Instagram @katyrexing
Use the hashtag #KRRecipe