I'm sitting on the plane ride home from Mexico trying to take in everything that happened this week.  I've received an overflow of questions from all of you about this work, what I'm doing here, Joe Dispenza, and just overall this experience, so I thought I'd share it all here.
I've been familiar with Dr. Joe Dispenza's work for a while, but to be honest, was never really a practitioner of his meditations.  Historically I've practiced more of a mindfulness style of meditation, and Joe Dispenza's style is very particular (not necessarily good or bad, just took some time to adjust to his style). But I've always been intrigued by his work, was looking to deepen my meditation practice and took a gamble and signed up.
The retreat that I was on was the week-long Advanced Retreat. In order to come on the retreat you have to complete his progressive program (which is included in the retreat package). So whether you're brand new to his work and/or meditation in general, you come feeling prepared and with a base understanding of the concepts. So this work, and a retreat like this, is truly open and available to anyone willing to put in the work (so don't let the language of "advanced" intimidate you).
My overall experience
I've been trying to think of a way to describe what it was that I felt or experienced this week.  If I had to sum it up in a word or two, I'd say it felt like an overflowing of love, peace, and ecstasy. As if I was being held by something larger than me.
I've experienced this before in my mediations and in other moments of my life.  Watching the sunset over the Pacific, moments with JP and the kids where my heart of overwhelmed with love.  But this was uniquely different.
It didn't come from any external stimulus.  There was no sunset, no innocent child being held in my arms, no awe inspiring scenergy. Instead, I was on the hard floor of a cold, dark ballroom with little to no stimulus at all.  And the feeling came from within me.  And not just a little.  An unmeasurable amount.  
As cheesy as it may sound so those of you reading this now, I had many (not just one, but several) meditations, moments (with my eyes open/closed, walking/sitting) where I felt as though I was being held by the Devine and my whole body was radiating with an energy I've never felt.  I found myself weeping uncontrollably with no idea why.
The feeling lasted as I'd get up and leave the ballroom, walk to dinner, or go back to my room.  Finding myself walking with a new cadence, smiling, my heart open and elevated.  I have no way to describe it other than every color seemed a little brighter, more coincidences and alignments occurring all around me, and every sensation heightened.  I felt more aline and aware.  Of everything.  And my heart was overflowing with gratitude.  
Not gratitude for something external.  That things were all of a sudden perfect in my life and all my worries disappeared.  Rather it was as if everything in the outside world was somehow quiet.  No longer gripping me.  As if I were standing still.  Everything around me was blurred and moving and swirling.  Life still happening.  Yet I was there in the middle of the swirl, grounded, clear, calm.  Present.  And my body could relax into the energy around me.  I was being carried.  
I know this phrase can be sort of cliche, but it truly was life-changing week. Worth every penny and every amount of time, and energy it took to make it happen.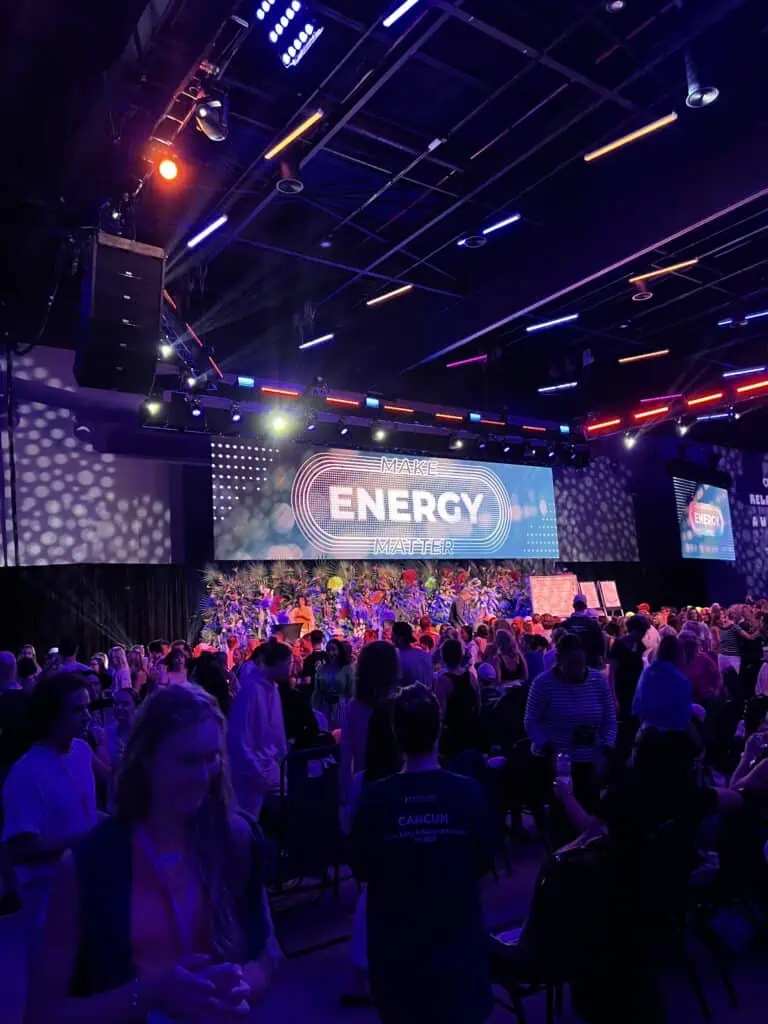 What you're actually learning
(I want to be clear that these are not my concepts, but rather what Dr. Joe Dispenza was teaching us, so much of this language is literally his.  I'm paraphrasing in some places to simplify the concepts, but this is 100% his work and his teachings)
Everything is energy. Everything. You, me, this computer I'm typing on, the chair you're sitting on while reading this. It's all just energy.
There are different levels of energy.  The highest vibration (which can't see with our eyes) being source, down to the slowest frequency (which we can see), matter.  But it's still all just energy.
Your personality creates your personal reality.  Meaning what you think say and feel determines not only who you are but also your experience in this life. It literally creates your reality.  So if you think you're unhappy, you will be.  If you think you can't meditate, you won't.  But if you believe you are healthy, if you believe you are abundant, strong, capable, unlimited – you will be.
So if we want to change our personal reality, we have to be willing to change our personality.  In other words, nothing changes if we don't change.
95% of what we think, say, do feel, is an unconscious set of beliefs that we aren't even aware of.  They've become so programmed, so ingrained in us, that we aren't truly consciously aware of what we think/feel.
When we wake in the day (almost all of us) begin to immediately think about our problems.  What we have to do that morning of that day.  How we're late.  Have to take the dog out for a walk.  And our mind begins thinking about our past. But by becoming conscious of those subconscious thoughts/behaviors/feelings, we can begin to create a new reality.
You're also learning a lot about the science behind this work and the truly groundbreaking transformations people are having. Dr. Joe and his team now have the largest database in the world on the effects of meditation on the body. They have hosted over 42 events worldwide, and are collecting data at each of these events (you can apply to be a part of the study when you register).
---
What you can expect
The days are long. You are starting anywhere from 4-6 am, and are ending between 7-8 pm every evening. You have several breaks (an hour and a half for breakfast/lunch, and 30 minutes here or there). But for the most part, you're in a huge auditorium/ballroom.
The mediations are pretty long too.  They last anywhere from 30-90 minutes.  Which sounds like a long time, but they move quickly.  Dr. Joe is amazing at moving you through the different parts of the meditation with music and cadence changes, so they don't feel as long as they are.  The last 15-20 minutes of the meditation have you lying on the floor completely and drifting off. Which I LOVED.  It really gave you a chance to integrate the practice into your mind/body.  Think of it like savanna at the end of a yoga practice. (You're also highly encouraged to bring lots of pillows/blankets/eye masks/etc to make yourself more comfortable.  And everyone does.  It essentially looks like one big sleepover.  As x says, comfort is queen.
There were just shy of 2,000 people, which sounds crazy.  But it was such a well-oiled machine that it never felt overwhelming.  You're divided into groups and for the most part, move with your group.  The staff is incredible and handles all the logistics smoothly.  Each night you're sent a message about where you'll be sitting in the ballroom, where you'll be eating when to be where, and how to prepare.  So there is never this feeling of I'm not sure where/when I'm supposed to be, or like you're in a sea of people.  
From all over the world, and all walks of life. There were over 72 different countries represented in the audience. Ranging in cultures, religion, age (as young as 12 and some in their 70s). Rich, poor. healthy and sick.
There are walking meditations, sitting, and standing. You meditate 3 times a day
Joe Dispenza in person is phenomenal.  I told JP it was like listening to one long TED talk for the week when you didn't want to miss a word. He uses humor, warmth, personal stories, and of course an incredible amount of groundbreaking data that makes all the information easy to digest and truly comprehend
Overall the experience was more impactful, fun, and transformational than I could have predicted.  I had a feeling it was going to be really good.  But I had no idea just how good it would feel.
I'll also add that I went on this retreat completely solo.  I didn't know a soul there and I'm so glad I went on my own.  Everyone I met was so friendly and warm.  I never felt "alone".  I very much felt a part of the community.  It also forced me to sit next to, meet, and connect with vastly different people that I wouldn't have otherwise had the opportunity in my day-to-day life.  I chose to eat most of my meals on my own.  Sitting and enjoying my meal with no phone, no book, just slowly eating, mindfully taking it all in (which I don't know in my day-to-day life if I really do). 
If you're at all interested in bettering your life, in any way. Whether that's with your health, freedom, relationships, or abundance, I can't think of a better investment.
---
If you're interested in learning more about Dr. Joe Dispenza's work but aren't quite ready to jump into a week-long Advanced Retreat, he has a wide variety of other resources. His books, Becoming Supernatural, and Breaking the Habit of Being Yourself (a little easier to digest than Becoming Supernatural, but not quite as much up-to-date science) are great tools. He also has a wide variety of meditations. I love his set of morning/evening meditations and are an easy entry.