I am so excited to share this copycat Sweetgreen's salad with all of you.  One of my very favorite spots to grab a quick lunch is Sweetgreens.  It's just an easy "go-to" for something easy and healthy.  I love just about everything there.  
Unfortunately, we don't have Sweetgreens anywhere near us in the suburbs.  The closest spots are downtown.  And since we haven't been spending nearly as much time in the city as we used to – I haven't been getting my Sweetgreens fix nearly as much as I used to either it.
I decided to try and recreate my own copycat Sweetgreen's salad, including the Sweetgreens spicy cashew dressing, which is my all-time favorite dressing.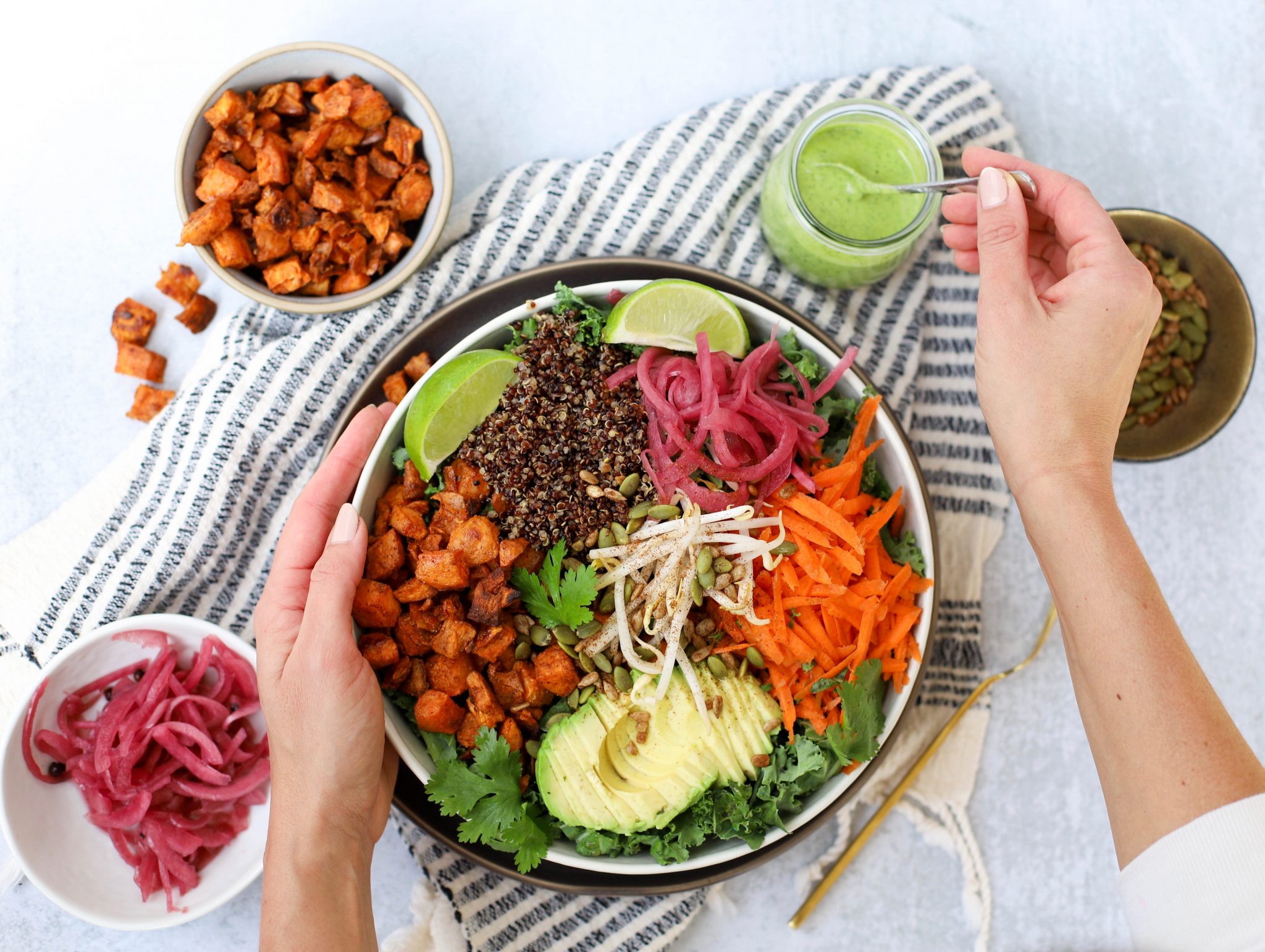 Copycat Sweetgreen's Salad
So let's break down what makes a great copy cat Sweetgreens salad – or really ANY Salad.  There are a few key elements that take a salad from just "ok" to "flipping awesome" 
 – A combo of raw, roasted, and even picked veggies (yes, picked – here's an easy recipe for quick pickled red onions). 
I think the combo of all three is really what creates the interest, something warm and toasty, something fresh and crunchy, and something tangy and tart.  We're building layers
 – A great crunch
I love adding toasted seeds, nuts, or even toasted breadcrumb.  If you don't have any of those, sometimes even a few broken-up pretzels.  You want something that adds a layer of crunch
 – A handful of herbs
I love adding cilantro or fresh basil right to my salad.  I add herbs to my dressings a lot – but I also throw a few right on top.  It just adds a layer of freshness and depth.
– Some type of grain
I love quinoa mixed into my salads (great texture and adds a ton of protein), but rice works well too
 – A GREAT dressing
I mean, that's what a salad is all about, right?  I promise you, taking the few extra moments to make your own dressing is well worth it. In fact, I love this new spicy cashew dressing I just started making.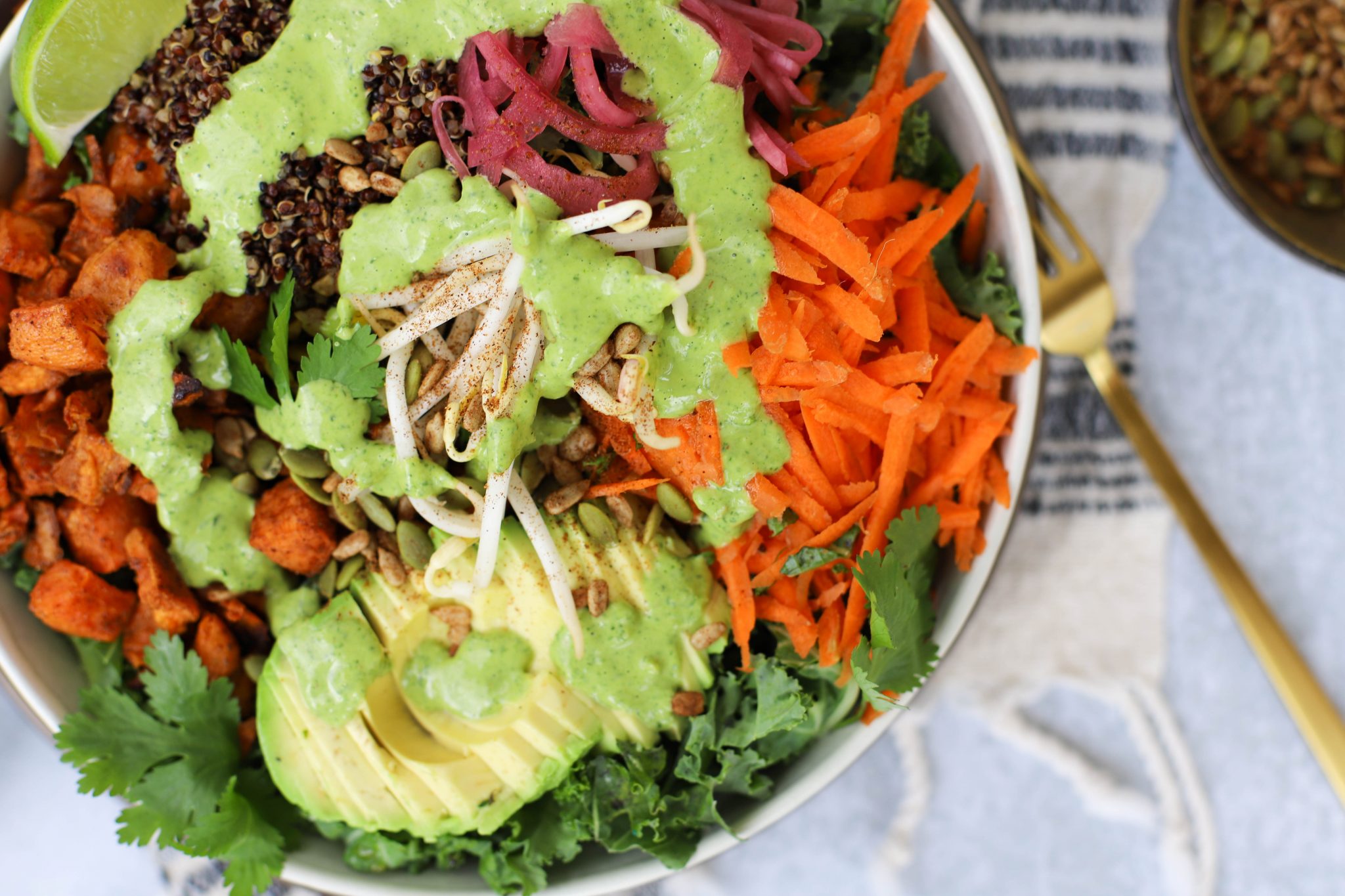 Now on to this copycat Sweetgreens salad.  I added all of my favorite things on top of a bed of chopped kale.  And I induced some raw shaved carrots, picked red onion, quinoa, roasted sweet potatoes (that I tossed in one of my favorite Morocco-inspired spice mixes ), avocado, bean sprouts, and then some spicy seeds.
I mixed it all up and it was simply the BEST thing I've made at home in a while.
Preheat oven to 425

Line a baking sheet with parchment paper, add the sweet potatoes, Moroccan spice mix, 2 tbsp of olive oil, and a sprinkle of salt/pepper. Toss

Place in oven and roast for about 30 minutes or until sweet potatoes are golden brown. Set aside.

To prepare the spicy seeds, in a dry skillet place your sunflower/pumpkin seeds, sprinkle with a dash of cumin and chili powder. Place over medium-low heat. Toss to keep from burning. Just cook until you can smell the spices and seeds. Just a few minutes. Set aside to cool.

Meanwhile, prepare the rest of the salad.

In a large bowl, add the chopped kale. Toss with 1 tbs of olive oil and a sprinkle of salt. Now comes the fun part. Arrange everything however you want. On top of the kale, add the shaved carrots, cooked quinoa, a handful of the roasted sweet potatoes, bean sprouts, avocado, and pickled red onion.

Then sprinkle on some of the cilantro, spicy seeds, and a huge drizzle of the cashew dressing.

Toss and enjoy my friends!

DID YOU MAKE THIS RECIPE?
Tag us on Instagram @katyrexing
Use the hashtag #KRRecipe