I've been trying to recreate the Sweetgreen's spicy cashew dressing at home for a while, and I think I may have finally nailed it.
I'm a huge fan of Sweetgreens, and especially the Sweetgreen's spicy cashew dressing. I'm not much of a "fast food" girl.  I don't even know if you could call Sweetgreens fast food.  But either way, it's been one of my "go-to" spots when I need something easy and healthy.  
Unfortunately, we don't have a Sweetgreens anywhere near us in the suburbs of Chicago, and since we haven't been going downtown lately, I've been majorly missing my Sweetgreen fix.
So I was left with no option, but to create my own version – which also meant creating my own version of Sweetgreen's spicy cashew dressing.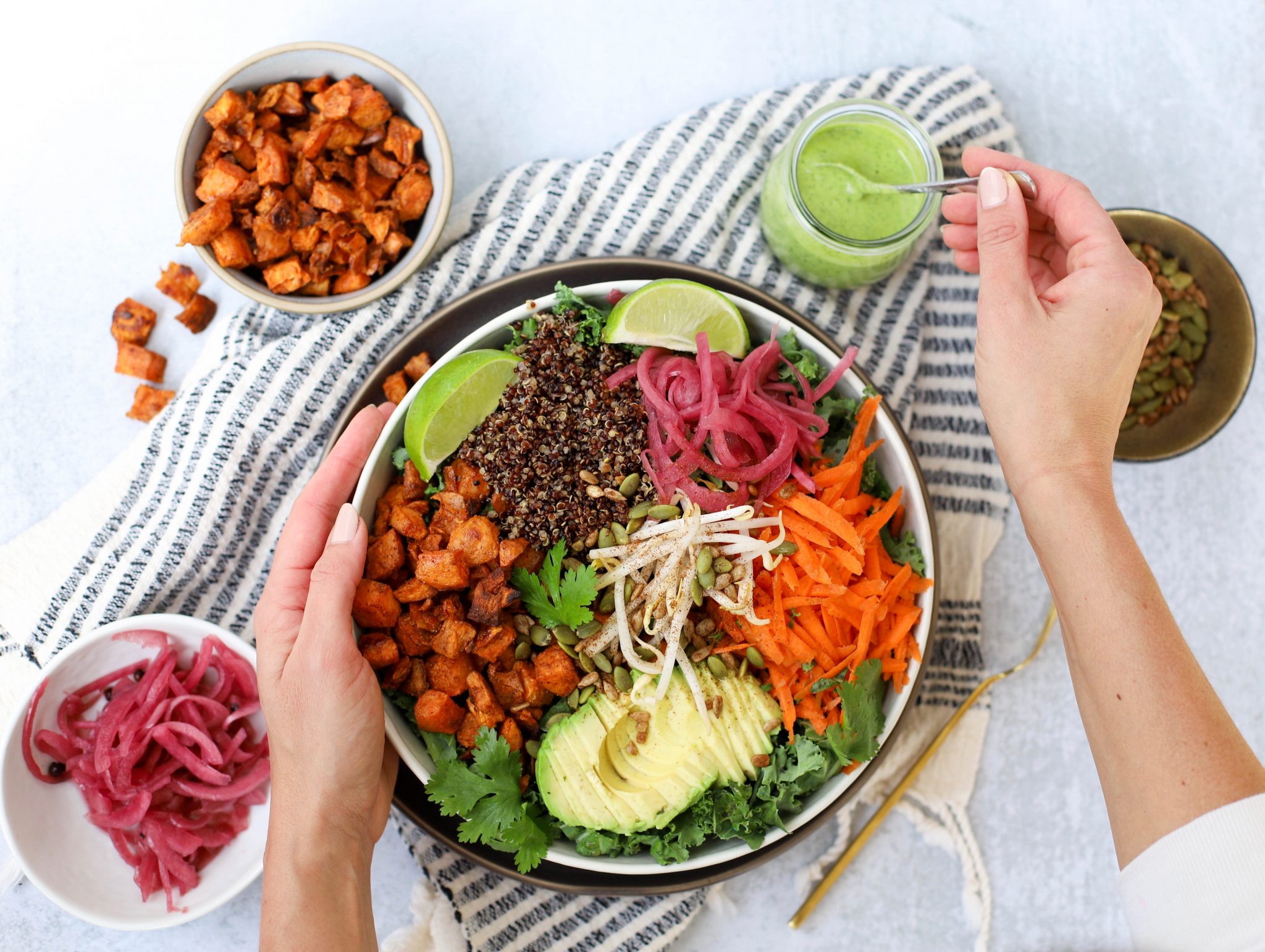 Which by the way, I think I kind of nailed.  
Sweetgreen's spicy cashew dressing
It was so much easier to make this Sweetgreen's spicy cashew dressing than I expected too.  In my favorite trusty Vitamix (that I use for basically everything) I added a huge handful of raw organic cashews, some garlic (of course), and little spicy chili oil, sesame oil (which adds such an amazing depth of flavor, plus sesame oil is just so good for us), olive oil, lime, a splash of water, lots of salt/pepper, and blended it all up.
Then at the very end, I threw in a huge handful of cilantro.  Because why not. I'm not sure the original Sweetgreens spicy cashew dressing has THIS much cilantro.  But listen, when you're cooking at home, these are the liberties you can take.  I LOVE cilantro, so I added a crazy amount.  You do you.  
I will also add that I made this Sweetgreen's spicy cashew dressing using almonds the other day and it was equally as amazing.  Just a little "nuttier".  So use whatever you have.  This recipe is just a guide – but feel free to add and modify it to your taste.  Cooking should be fun.  So have fun with this dressing.  
In a Vitamix (or another high-speed blender), add the cashews, olive oil, sesame oil, rice wine vinegar, lime, garlic, garlic chili oil, and a dash of salt/pepper.

Blend for 30 seconds until it starts to come together. If the dressing is too thick, add one tbsp of water at a time, until you get a creamy consistency (being cautious not to make it too watery).

Taste, adjust seasoning as necessary

Then add a huge handful of cilantro to the blender, give a quick blend. Pour into a serving dish. Use and enjoy

Can be stored in your fridge for up to a week.

DID YOU MAKE THIS RECIPE?
Tag us on Instagram @katyrexing
Use the hashtag #KRRecipe
If you like this Sweetgreen's spicy cashew dressing, here are a few other recipes you might love too, spring pea and asparagus salad, spicy buddha bowl with sweet potato, 30-minute vegetarian ramen.