As much as I can, I try to eat seasonally. Now I'll be honest, that doesn't always happen, but I try and make a conscious effort. I notice that my body feels better, and responds by naturally craving fruits and vegetables in season. Luckily, each season provides a bounty of beautiful produce that shines, and winter is no different.
I have so many favorite winter foods, but a few of my favorites are deep earthy greens, like radicchio and bright citrus fruits, like blood oranges. Here, I tried to create a salad that highlighted both of these, and showcase how flavorful winter's bounty can be. This salad is hearty and earthy, while still being fresh and bright.
If you're not familiar with blood orange, maybe it's time we get you acquainted. Blood oranges are a variety of the orange family with a crimson, almost "blood-like" flesh. The distinctive dark colored flesh is to due to a high level of a specific antioxidant, anthocyanins, that is uncommon in other citrus fruits. They also have a unique sweet "raspberry like" note to them, making them a great sweet treat.
The sweet, almost floral, fruit is well balanced here by the dark earthy radicchio. I was lucky enough to find this gorgeous radicchio at my local Whole Foods, radicchio castillo franco. I mean is that not beautiful?! They are like little roses! I just peeled them apart, one petal at a time.
I also added pickled kumquats to the salad to provide another sweet/tart flavor. Kumquats are small little gems that are also part of the citrus family. They can be eaten whole; seeds, skin and all. They make a great topping to this salad, but are also great for just snaking. I love doing a quick pickle of fruits/vegetables. They make a great addition to any salad, sandwich….or avocado toast (maybe I'll share a post with avocado toast & pickled kumquats next week…sounds so yummy, right?).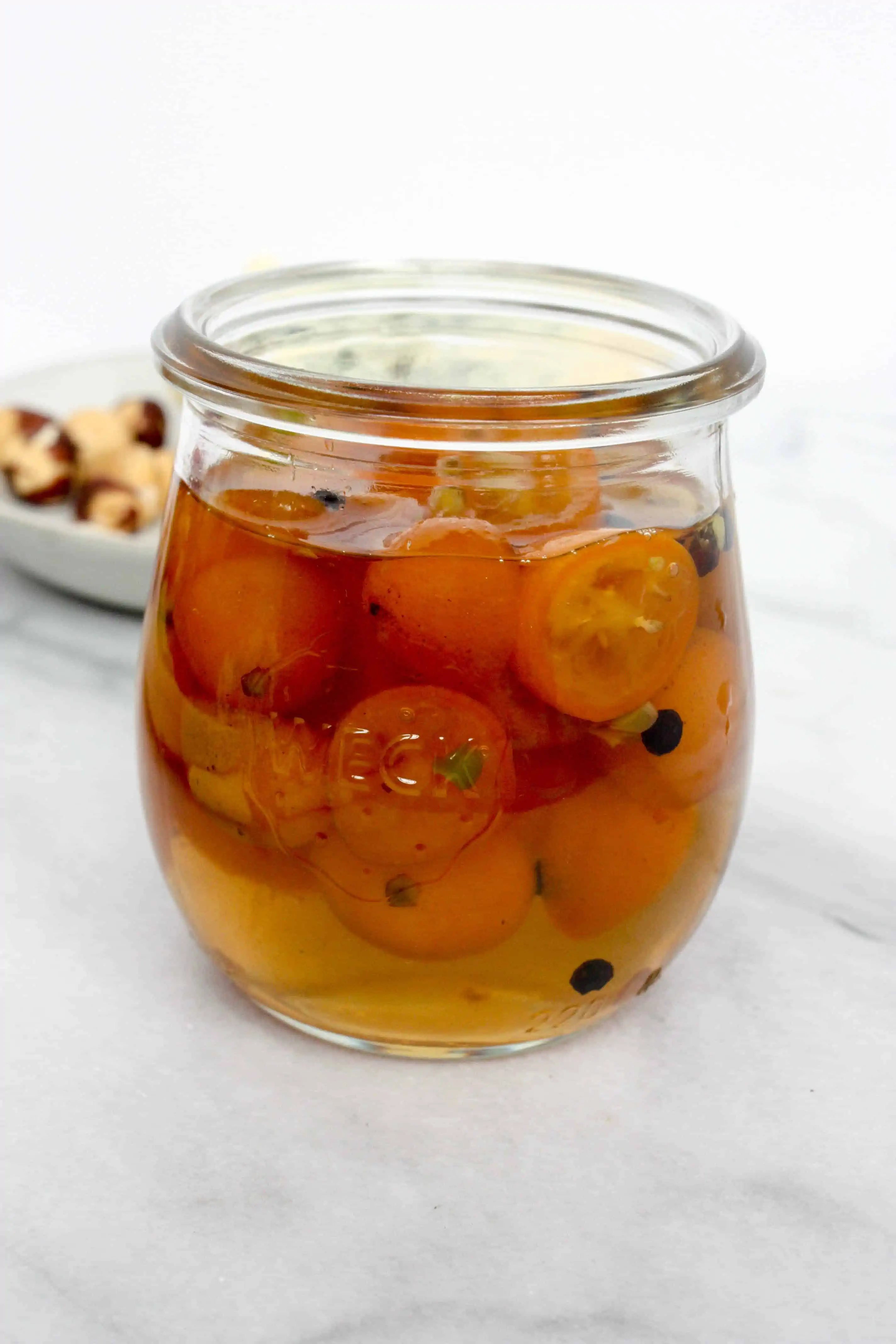 All of this got topped off with a few crumbles of Point Reyes blue cheese, chopped hazelnuts and last but not least, a tangy but sweet blood orange vinaigrette. All in all, I'd say winter tasted pretty darn delicious.
Rinse butter lettuce and radicchio well, set aside to dry and then tear/chop into small pieces (I like keeping the lettuce larger here, but totally a personal preference).

Using a sharp knife, segment both of the blood oranges. Reserve juice and segments in a bowl. Set aside.

To make the blood orange vinaigrette, in a high speed blender place shallot, honey, salt/pepper and 1/4 cup of the reserved blood orange juice (doesn't have to be exact). Blend on low to combine. With the blender still running, slowly drizzle in 5 tbsp of olive oil. Taste, adjust seasoning as necessary.

To assemble salad, on a large platter spread a layer or butter lettuce followed by a layer of radicchio directly on top. Top with a generous serving of blood orange segments. Add chopped hazelnuts, blue cheese crumbles, and pickled kumquats. Drizzle with blood orange vinaigrette. Serve immediately and enjoy!

DID YOU MAKE THIS RECIPE?
Tag us on Instagram @katyrexing
Use the hashtag #KRRecipe