I am so excited it's finally starting to feel a little more like spring here in Chicago.  I love everything about spring – the longer days, spending more time outside with the kids, and of course a little spring wardrobe update.  I'm itching to pack away some of my winter clothes (anyone else?  Especially my kid's winter boots and gloves – see ya!)
While I'm not a huge shopper, I do like to update my wardrobe each season with a few classic pieces that I know I'll still love years from now.  And although I do love color, I'm really gravitating towards more neutral fresh colors.  Pieces that I know will mix and match well together.  And there is just smoothing about bright whites, earthy taupes with little pops of black that just scream effortlessly cool to me.  
I rounded up a few of the things I've been eyeing this season.  Lots of different price points, and options – but all things that will just help freshen up any wardrobe and are all classic and can be woven into any style.  
A few of these pieces I already own (some for years, and others more recently), and a few I'm still drooling over. 
My effortless spring style
A few things I already have in my wardrobe that I'm really loving, are these white straight-leg jeans from Abercrombie.  I don't shop at Abercrombie a lot – but they do have great jeans.  These are amazingly comfortable and super chic.  They just feel a little more "polished".  I love them with this square neck tank from Vincent James.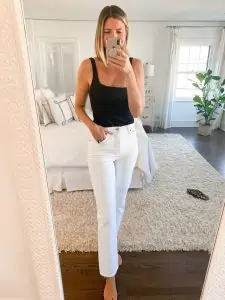 I also just got this Good American jumpsuit that I'm OBSESSED with.  I'm usually not a jumpsuit girl – mainly because I think they look silly on me (I'm so paranoid because of my height), but this jumpsuit is so comfortable. 
And of course, these sunglasses that I've had for YEARS.  Yes, they ARE an investment. I'm not even going to act like they're cheap.  But, I will say that I have had mine for three years and they're the only sunglasses I wear.  
Now, if I could add a few more pieces to my wardrobe – it would be this LoveShackFancy white dress (I've been eyeing it for months) and this Mirth long caftan dress, which is a new brand for me.
I hope some of these pieces inspire you to freshen up your wardrobe a little too  –  which could be as simple as going through some things you already have in your closet already and just mixing it up a little bit.  I'm always amazed when I can find when I really sort through my closet each season.