JonPaul has been so patient with me this entire month. Like husband of the year kind of patient. Drinking green juices for breakfast, taking countless supplements, going to bed at 8pm, and eating whatever I put in from of him (he's a good boy). This cleanse has been teamwork, and he's held up his end of the deal. So I'm trying my hardest to reward my guy.
We aren't totally done with "clean" eating, but we are so close, so this recipe is for him (I mean who wouldn't want a quinoa bowl as a reward ;)!
This may sound silly, but I know one of his favorite places to eat at when he's out and about with the kids is Chipotle (I mean come on, Chipotle is pretty darn delicious. I'm not gonna lie, I I've been known to crush a burrito or two). He always gets a bowl with brown rice and chicken. Not bad, right? But I thought maybe I could step it up a little…and make it a tad healthier. So I put together this southwest chicken and quinoa bowl.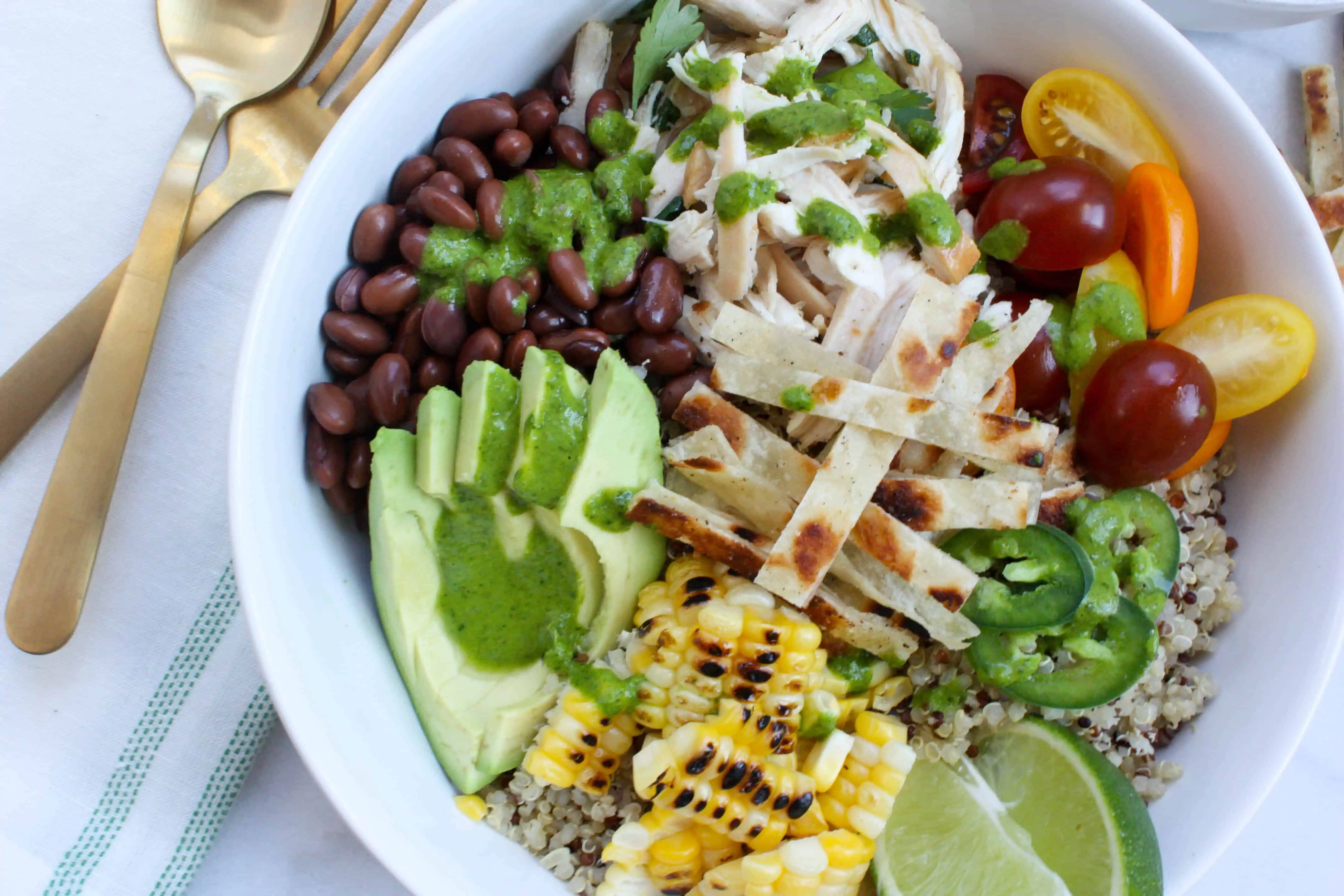 The base of the bowl is quinoa. Nutty and nutritious, packed with fiber, protein and magnesium. Then I topped it off with roasted chicken that I marinated in honey, lime, garlic and cilantro. You could use any shredded chicken though…even a rotisserie chicken.
For a sweet crunch I added grilled corn. Since it's waaaay too cold to head outside to the grill, I used a grill pan right on our stove instead. A cast iron skillet works great too. It made the whole house smell like summer too…perfect pick me up on this cold January day.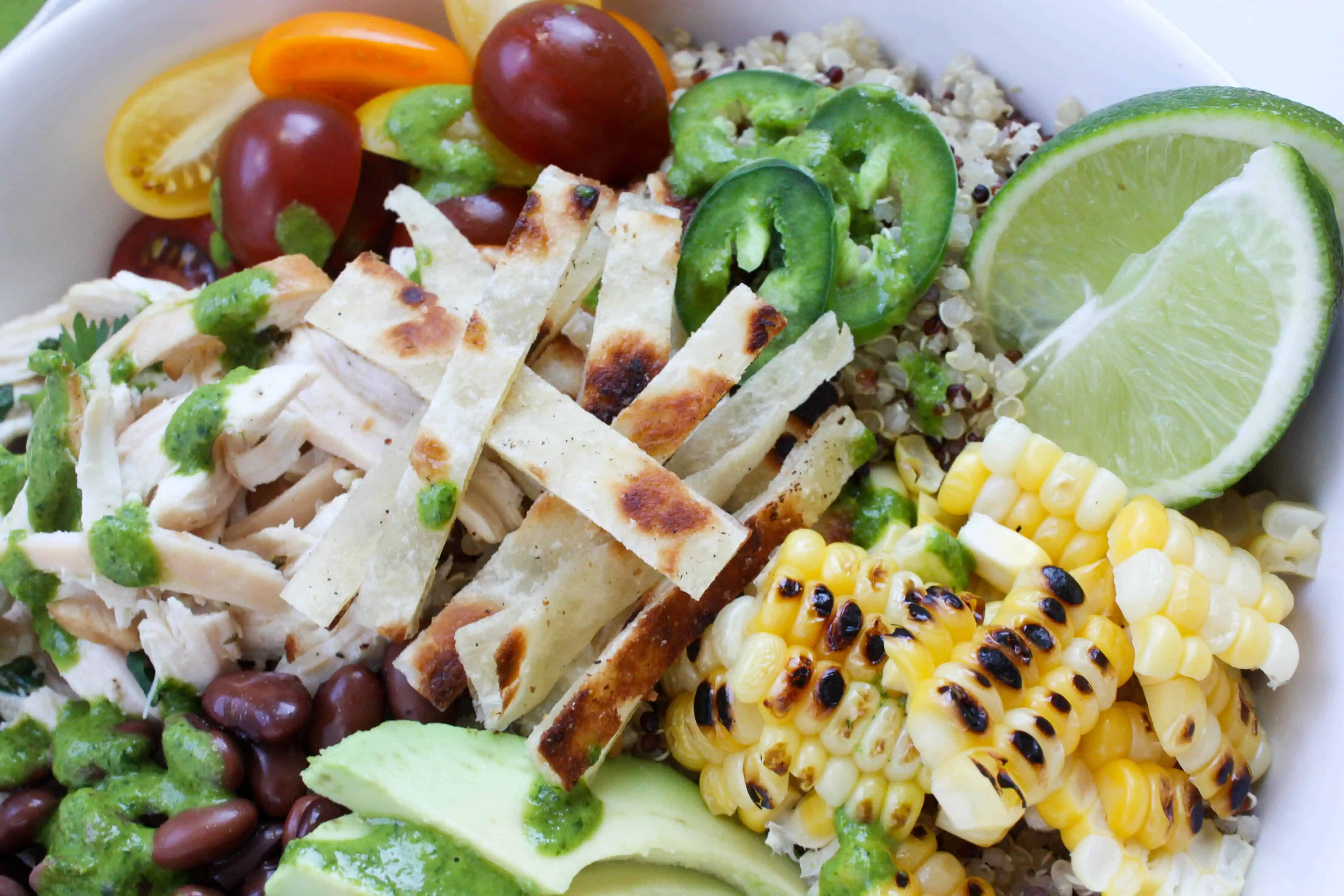 I also added black beans, avocado, tomatoes and jalapeños for a little heat. And of course no southwest bowl would be complete without a few tortilla strips. They're super simple to make. Just a tortilla shell toasted in a cast iron pan and then thinly sliced. They're a great addition to this bowl, but would be great for tomato soup or chili too.
For the dressing, I made the cilantro vinaigrette that I shared with all of you the other day. It was just too yummy I couldn't resist. Be sure to drizzle a lot of it over these beautiful toppings and then sit back and dig in! This is one satisfying dish that you don't have to feel an ounce of guilt enjoying!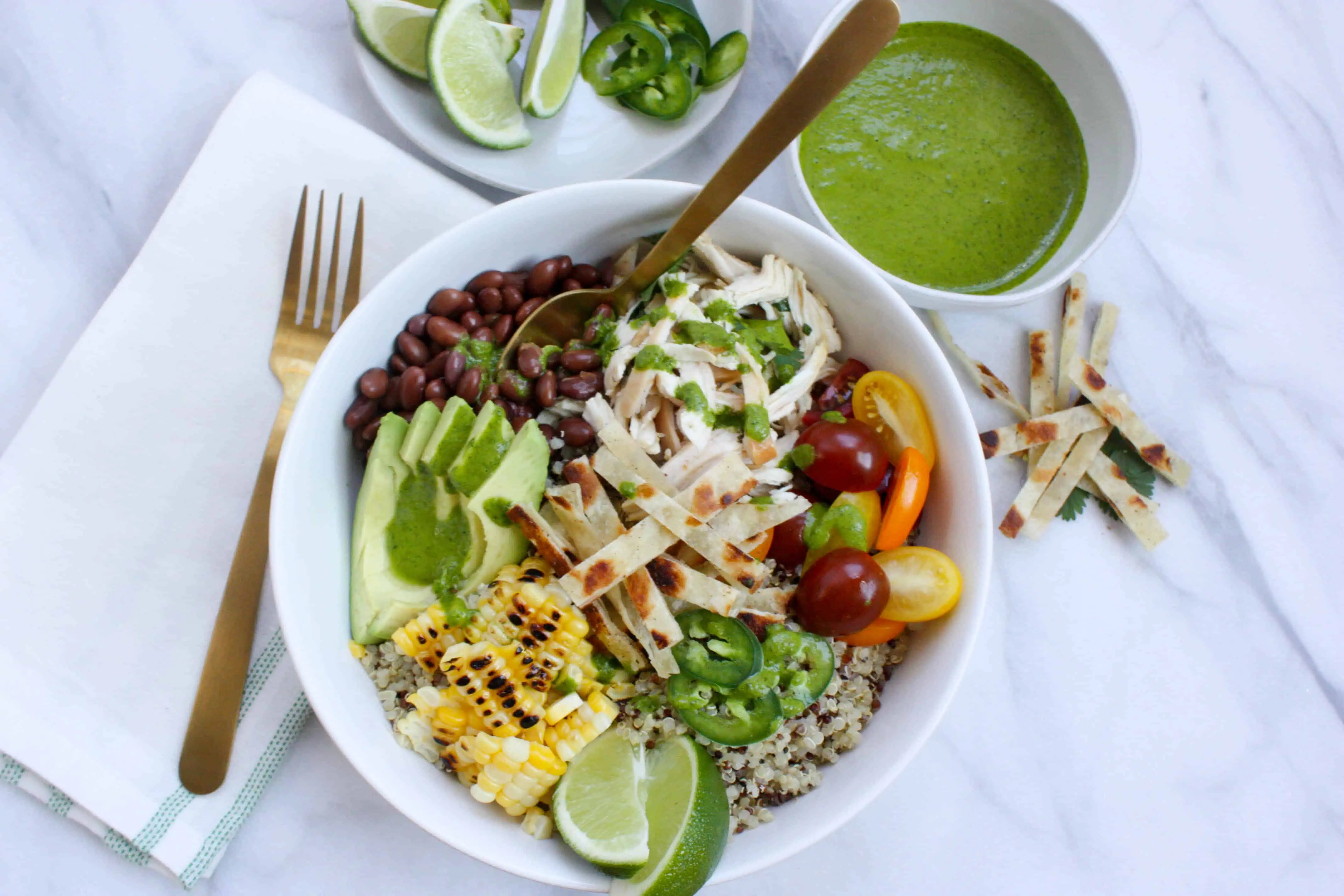 For the cilantro lime chicken

In a shallow baking dish, add lime juice/zest, honey, garlic, cilantro, olive oil, and salt/pepper. Mix to combine. Reserve 2 tbsp of marinade (before adding the chicken!) in a separate bowl and set it aside.

Add chicken to the marinade in the backing dish. Allow the chicken to marinate for an hour.

Heat oven to 425.

Remove chicken from marinade and place on an oiled sheet pan. Roast chicken for 20-25 minutes, until chicken is golden brown.

Allow chicken to rest/cool. Using a small bowl and two forks, shred chicken into small pieces. Add reserved marinade and coat chicken evenly. Set chicken aside. (Chicken can be made 1-2 days in advance).

For the bowl

Over medium low heat, heat a grill pan (or cast iron skillet). Place the ear of corn in the skillet and allow it to "blister", turning it every minute or two. Once corn is evenly brown on all sides (about 5 minutes), remove from heat, allow it to cool, and then using a chefs night carefully cut all the kernels from the cob. Set aside

Meanwhile, heat a cast iron skillet (or you can use the same one you cooked the corn in) over medium heat, and add about 1 tbsp of olive oil. Add a tortilla shell and allow it to brown evenly. Flip to the second side after about a minute and continue to cook. Once shell is evenly browned, remove it to a paper towel (continue to cook additional shells if you wish). Once the shell has cooled enough to touch, slice into thin strips. Set aside.

To prepare bowls, using 2 large soup bowls, add 1 and 1/2 cups of quinoa to the base of each bowl. Top each bowl with a cup of the shredded cilantro lime chicken, 1/2 a cup of black beans, 1/2 a one avocado, a handful of the grilled corn, 1/2 cup of tomatoes, a few slices of jalapeno, and a tortilla strips. Top with cilantro lime dressing

For the cilantro vinaigrette

In a high speed blender, add the cut up shallot, cilantro, vinegar, and salt/pepper. Mix on low speed for 15-20 seconds. Slowly, drizzle in the olive oil with the blender running. Continue to blend for another 15-30 seconds (careful not to over-heat the dressing or it will turn the dressing from a bright green to brown).

DID YOU MAKE THIS RECIPE?
Tag us on Instagram @katyrexing
Use the hashtag #KRRecipe