When JonPaul and I were first married, I somehow convinced him go morel hunting with me. I bet you didn't even know that was a thing. Well let me assure you, it is…..and we did it (even if it did include me begging!).
Morel hunting is essentially walking around a forest searching for small wild mushrooms under piles of leaves. They're usually found just as the edge of a forest and start to appear just as the ground begins to thaw. So in honor of the ground finally beginning to warm up here in Connecticut, I wanted to create a dish highlighting these beautiful mushrooms, and include a few of my other favorite early spring vegetables. This cavatappi with spring onions, morels and mushrooms is bright, earthy and celebrates some of springs best flavors.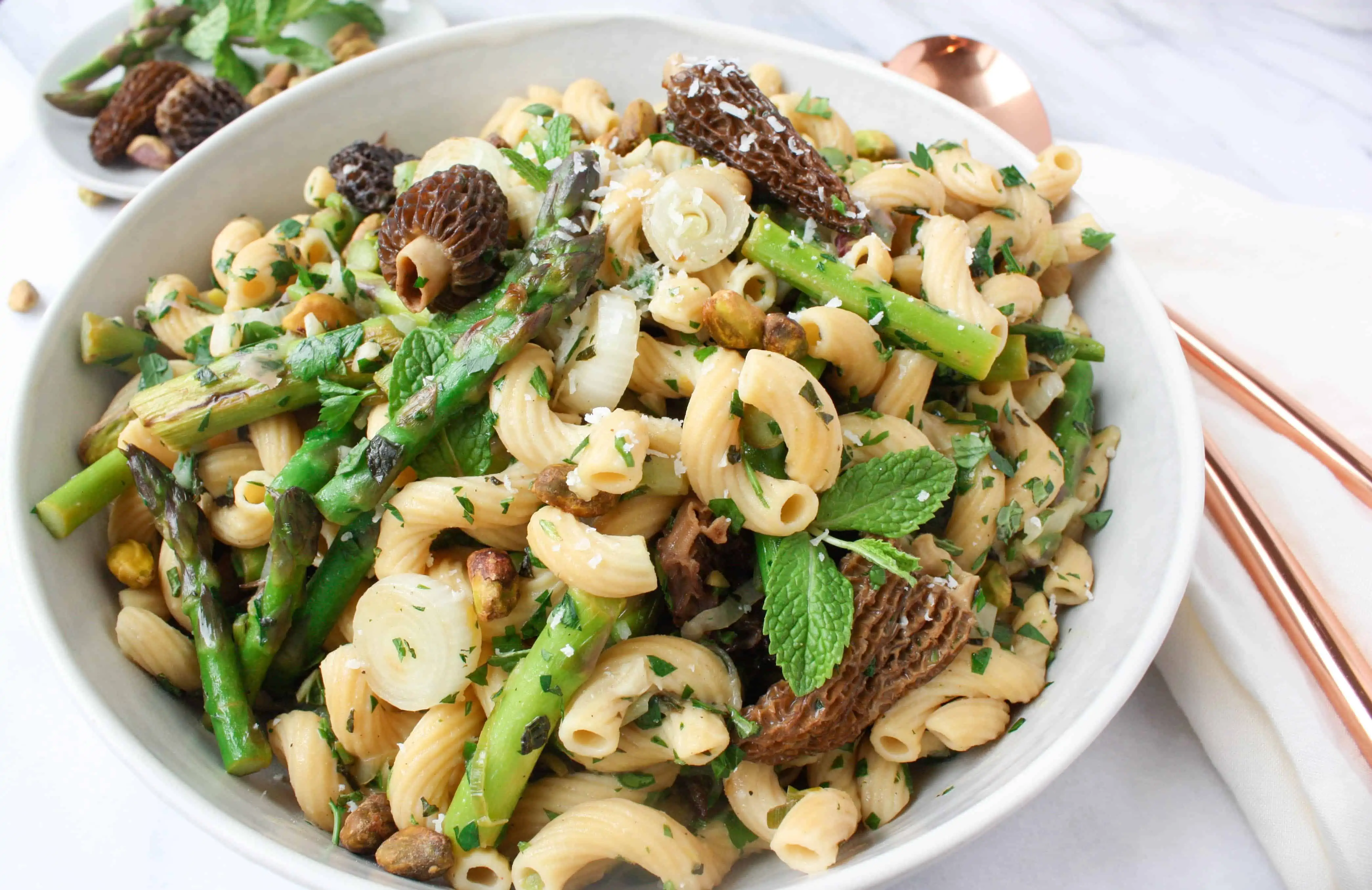 Finding fresh morels in your local grocery store can be tricky. So if you're not in the mood to give morel hunting a try, I'd suggest using dried morels. That's what I used here and they worked great. Most grocery stores now carry a wide variety of dried mushrooms, including morels. But if you can't find them feel free to substitute with whatever is available.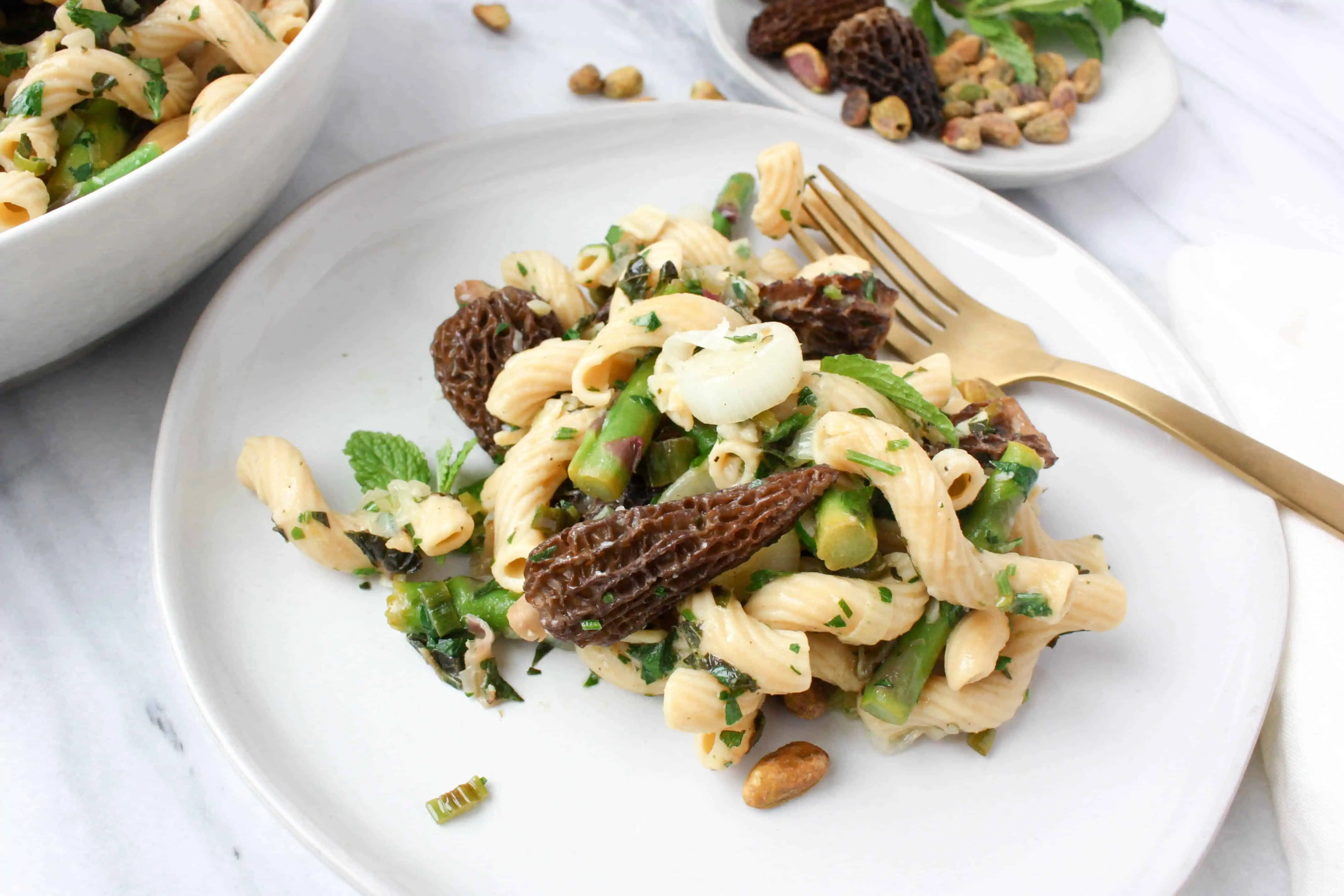 I love this recipe for so many reasons, but one of them is definitely how easy it is to make. The freshly cooked pasta is covered in lemon juice, olive oil and a generous handful of chopped parsley and mint. Then the rest of the flavors come from the sautéed vegetables that are added right on top. The spring onion and garlic create a deep rich base, while the asparagus and morels provide an earthy note. All brightened up with lemon juice and fresh herbs. I of course topped it all off with a few shavings of Pecorino Romano cheese, but that's totally optional.
This recipe is great for a healthy weeknight meal, but also impressive and beautiful enough for any of your spring entertaining. It works great just on it's own as a meal, or would make a wonderful compliment to a grilled steak or piece of fish. Either way, this cavatappi dish is a delicious taste of spring!
Fill a large stock pot with water and bring to a boil.

If working with dried morels, rehydrate by placing morels in a large bowl and submerging them in warm water (or chicken stock) for 10-15 minutes. Then drain and set aside

Meanwhile, prep your vegetables. Remove woody stems of asparagus and chop into 2 inch pieces. Chop spring onions into thin strips, about 1/4 inch thick. I like to chop the green "stems" as well.

Rinse and dry parsley and mint. Chop enough to fill a 1/4 cup.

Once pasta water has come to a boil, add 1 tbsp of sea salt and cavatappi pasta. Cook pasta according to package (about 8 minutes).

Meanwhile, using a large sauté pan over medium heat, heat 2 tbsp of olive oil and add spring onions, and asparagus. Cook for 3-5 minutes until the onions have wilted and the asparagus is just cooked through, but still tender. Then add the rehydrated morels and garlic to the pan. Toss all together and continue to cook for 1-2 more minutes until garlic is fragrant and morels are heated through. Then add the zest and juice of 2 lemons to the vegetables and 1/2 cup of chicken stock. Add salt/pepper to taste

Once catavappi has finished cooking, drain pasta and place in a large serving bowl. Drizzle with a generous amount of olive oil (2-3 tbsp) and add chopped herbs. Toss to coat pasta evenly.

Then pour the sautéed vegetables directly on top of the herbed covered pasta. Toss to combine. Garnish with a handful of chopped pistachios, additional mint and Pecorino Romano cheese.

DID YOU MAKE THIS RECIPE?
Tag us on Instagram @katyrexing
Use the hashtag #KRRecipe