If you've been following along with us for a while, you know that we are crazy about pancakes in this house, especially these whole wheat pumpkin pancakes. We can't get enough. We have them at least once a week, and it is by far my favorite morning. And I'll let you in on a little secret why….
When pancakes are being made, it almost always means that I'm in bed.
You see, pancakes are JonPaul's thing. It started a few years ago when all of our littles were still "itty-bitty". I was always so tired from usually being up during the night with one or two of them, and the long week. So JonPaul would treat me every Saturday morning by rising early and making breakfast for the kids. Which almost always meant pancakes.
Years later, he's still up every Saturday morning in the kitchen, and I'm (still, years later) usually lounging in bed, doing a little yoga in my room, or honestly just taking a break. It's a pretty magical setup we've got going, and I wouldn't change it for the world.
So with all of these years of "pancake-making practice", one would think that we'd have an array of pancakes recipes. But truth be told, we always make the same buttermilk pancakes that JonPaul and I came up with a few years ago. Our kids are crazy about them (and we secretly are too) and let's just say that our kids are NOT huge fans of change.
However, there is ONE small amendment that can be made to the "buttermilk only" stronghold our kids seem to have going – and that's for these pumpkin pancakes. We only make them for about a month or so out of the year, so they're really like a holiday treat in our house. And for good reason too – they are downright delicious!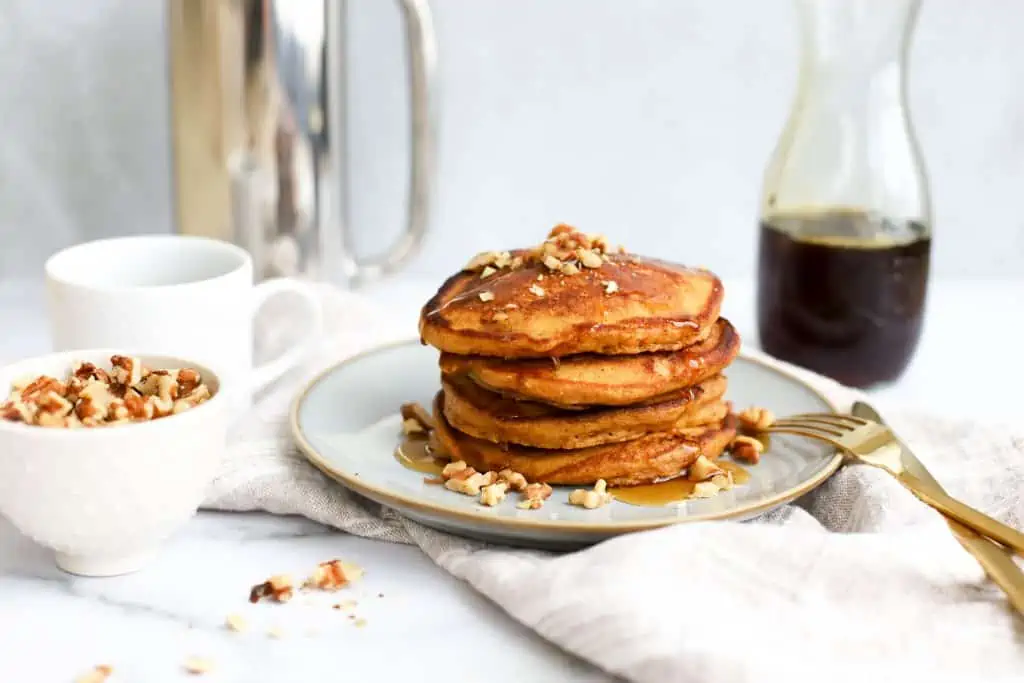 Now I have to be honest, the recipe for these pumpkin pancakes is very similar to our buttermilk pancake recipe (which I'm pretty sure is why my crew devours them). Just like that recipe, these whole wheat pumpkin pancakes bake up really thick but are still light and fluffy and tender.
In comparison to our buttermilk pancakes, with this pumpkin pancake recipe, I used a combination of whole wheat flour and white flour (King Arthur is my favorite brand for flour). I personally love the way whole wheat flour adds a little more texture and earthiness to the pancakes. I also decreased the amount of buttermilk and added a whole cup of pumpkin puree and a generous helping of cinnamon and nutmeg. The result is a pancake that's sweet, warm, fluffy with just a touch of spice. The perfect fall pancake.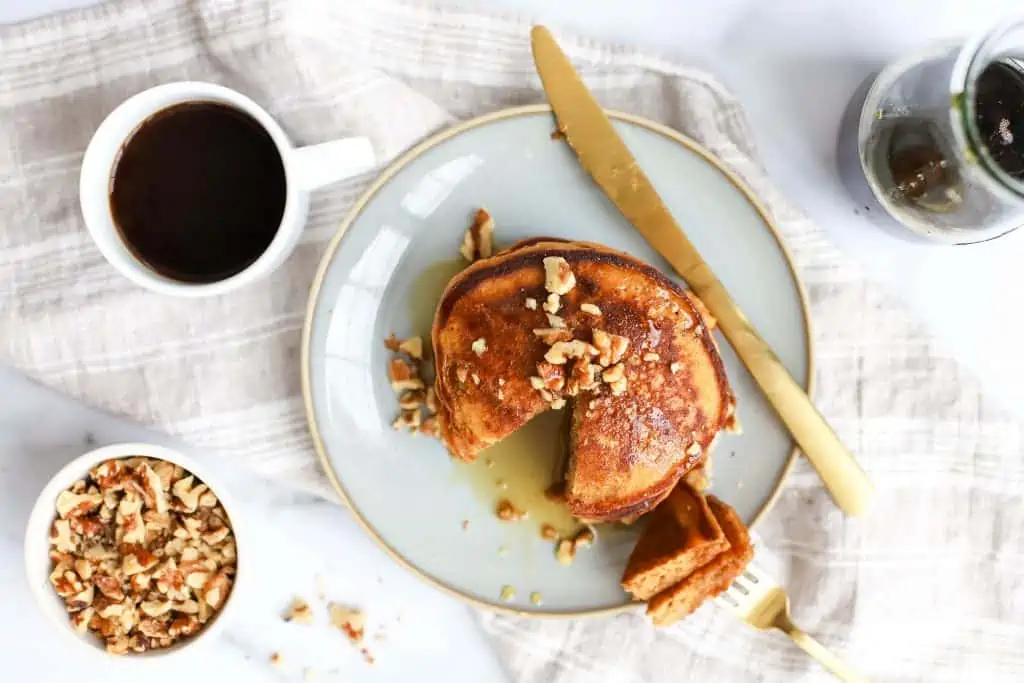 We love adding a few crushed chopped nuts on top. Lately, we've been using walnuts, but I love hazelnuts on this too. Then it's time to pour yourself a great cup of coffee, light a fire, find your favorite spot at the table and then sit back and enjoy.
These pumpkin pancakes are such a fun treat on these cold winter weekends. Our family is crazy about them. I have a feeling yours will be too.
In a large bowl, add the flours, cinnamon, nutmeg, salt, baking soda, and baking powder. Whisk all to combine and set aside

In a separate bowl combine buttermilk, melted butter, pumpkin puree, and eggs whisk to combine.

Create a well in your dry ingredients, slowly pour in the wet ingredients. With a wooden spoon (not a whisk) slowly combine all the ingredients only mixing until the flour is incorporated. Do not overmix, your pancakes will be tough and flat.

The batter will be a little lumpy

Heat your griddle (or pan) over medium/low heat, melt a tbsp of butter and then add your batter. We find that our ¼ cup measuring cup is the perfect scoop and creates a great manageable size pancake.

Once you see bubbles begin to appear, carefully flip and finish cooking until golden brown on both sides.

To make the whipped maple brown butter

Add 4 tbsp of butter to a small pan over medium heat. Melt the butter until it begins to get bubbly and brown. Remove from heat and add the melted brown butter to the base of a stand mixer. Chill the bowl and butter in the fridge for about 30 minutes (it's easier to whip "chilled" butter versus hot melted butter).

Remove the base/butter from the fridge, add a pinch of salt and 4 tbsp of maple syrup. Add the bowl to your stand mixer and begin to mix on medium speed for about 30 seconds.

Scrape sides as necessary and continue mixing, increasing the speed to high, for about one minute, or until butter is nice and "whipped".

Transfer the butter to a serving dish.

To serve, create a stack of warm pancakes, top with the whipped maple brown butter, a sprinkle of chopped hazelnuts, and serve with maple syrup

DID YOU MAKE THIS RECIPE?
Tag us on Instagram @katyrexing
Use the hashtag #KRRecipe