JonPaul and I are usually not big "gift" people when it comes to birthdays, anniversaries, or holidays. Instead, we usually opt for an experience together, which if I get to pick, usually means traveling.
Traveling together is one of our favorite things to do together. I think it's because it gets us away from our day-to-day responsibilities, work, and let's be honest – the kids. It's time for us to just focus on each other and experience something new together.
This Valentine's Day we're headed to NYC for a quick trip (JonPaul's already in NYC for work, so I'm just meeting him there for a few days). We're also celebrating our 40th birthdays while we're there. Our birthdays are two weeks apart, with Valentine's Day falling right in between (I know, how cheesy, right?). So lot's to celebrate this month.
We also just planned a trip to Paris this spring to celebrate both of our big milestone birthdays (I'm kind of dying over this one. Beyond excited). So needless to say, we are not exchanging "gifts" this Valentine's Day.
Instead, I made this rose and pistachio white chocolate bark and am planning on taking a few of (if not all 😉 the pieces with me on the plane to surprise JonPaul. Just something small to say "I love you." I know it's probably a little cheesy, but I still think "homemade" gifts are the best kind – especially when they involve chocolate.
But before I take all of these delicious treats with me to NYC, I let my little guys have a taste test tonight, and they went crazy for them. Especially Lillian, this little treat is her right up her alley.
Along with the rose petals and pistachios, I also added freeze-dried strawberries for a kick of sweetness and then pink Himalayan sea salt for texture and a little saltiness to balance everything out.
This was one of my first times using dried rose petals when cooking (these are the rose petals I use). I've used them a lot in my body scrubs, but this was my first time adding them to a dessert, and now I can't wait to play around with them more. They added a light floral note to the chocolate bark, but I really just love them for their gorgeous color and light texture. They made the bark so fun and festive. I mean, what goes better on Valentine's day then roses and chocolate?
The bark couldn't be simpler to make. All you do is melt the chocolate, spread it onto a baking sheet and then add your toppings. I used white chocolate here, but you could use dark chocolate, vegan chocolate chips, milk chocolate. Really anything goes. This is a great recipe to play around with and tailor to your preferences.
You can also add whatever toppings you have on hand. I love some type of nut and fruit combination. The freeze-dried strawberries worked great here. I love how they broke up easily and were extra sweet. But any type of fruit (dried or freeze-dried) would work.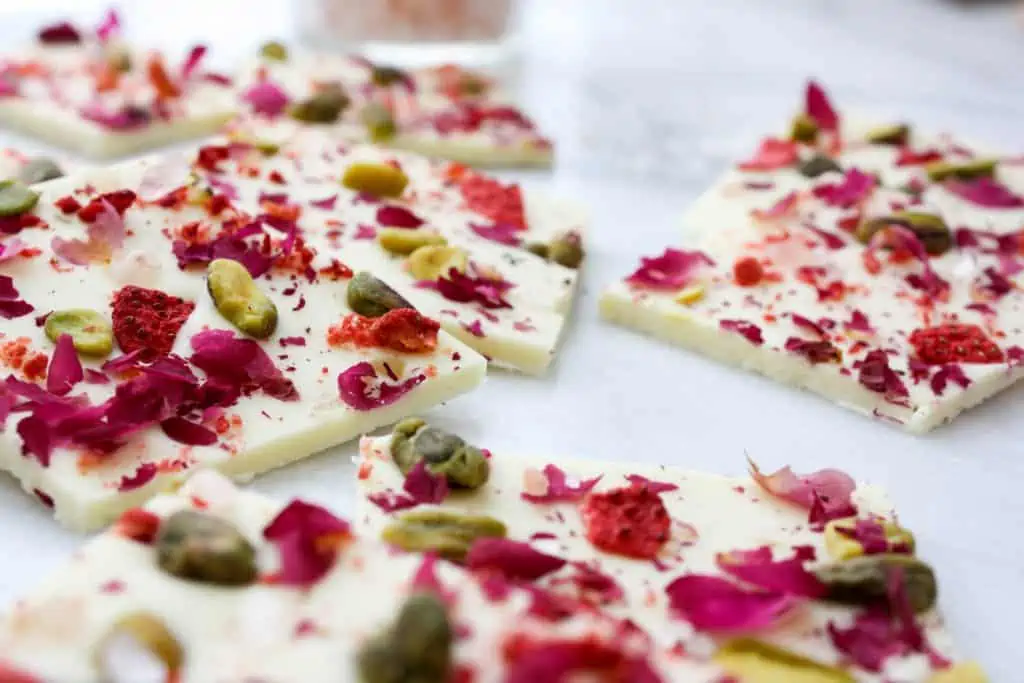 Play around with it, have some fun, and then don't forget to bag it up for a few of your favorite Valentines.
Happy Valentine's Day!
xoxo
Using a double boiler set up, melt your white chocolate over medium-low heat.

When your chocolate is completely melted, pour the chocolate into the middle of a baking sheet lined with parchment paper

Use a spatula to spread the chocolate out evenly (It won't fill the entire sheet pan).

Then carefully top the white chocolate with the chopped pistachios, strawberries, rose petals and salt. Making sure to get all the corners.

Gently press the toppings into the chocolate (without smooshing them - just a light pressure).

Place the sheet tray into the fridge for 30-60 minutes, or until the chocolate has thoroughly set and is firm

Remove from the fridge. Place the bark onto a cutting board and slice into smaller pieces (I made squares here, but you can break apart the bark into more organic pieces or cut into any shape you'd like).

Serve and enjoy!

DID YOU MAKE THIS RECIPE?
Tag us on Instagram @katyrexing
Use the hashtag #KRRecipe