Another great week in the books, my friends.  Another week filled with moments of joy, a few challenges and lots of in-between.
This week I had strained a muscle in my back. And while I've had issues with my back my whole life, this was one of the first times that I didn't let the "pain" get to me.  Instead, I took it easier, embraced the forced "slower" days and gave my body a little TLC (which if you know me, you know I don't do "slow").  It was a great reminder to listen to your body and just embrace wherever you're at. I also had the chance to try out Equilibria's CBD cream with this new injury and I have to tell you, I loved it and think that's why I healed so quickly.
This week I also had the privilege of being able to work with my sister and best-friend with Beautycounter (which you can read more about here).  It was honestly just so fun.  I couldn't stop smiling during our entire meeting.  What a gift is that!  I feel so lucky to be doing something I'm passionate about – surrounded by people I love.   Seriously cool pinch me moment.
But proably the best part of my week has been having my mom in town helping me this week. At 40, I think I appreciate my mother's help now, more than ever.  It takes a village to do all of this – raise kids, have a career, and just simply make it through the day!  We can't do any of it alone.  I'm working on getting better about asking for help – and feel blessed to have my mom as the center of my little village.
Ok, before I get too sappy here, let's jump into this week's Friday Favorites.  Lots of goodies here….
No. 1
You've heard me talk about my experience with Equilbira CBD oils on here before.  I'm a huge fan.  I love how their softgels help me feel more in balance.  But I was recently surprised to learn just how much I equally love their CBD cream.  I was in a lot of pain at the beginning of this week and this little bottle of cream saved me.  It gave me immediate relief, which didn't "cure" anything, but just allowed me to feel good enough to move and stretch (which is why I think I healed so quickly).   It absorbed quickly into my skin, didn't have a strong scent and I immediately felt it working.  You can use the code "graceinthecrumbs" at check-out to get 20% off this cream, or any of their products.
No. 2
I love these black boots for the fall and LOVE EVEN MORE that they're 25% right now at Anthropologie  I love how "slouchy" they are and the best "in-between" height so you can wear them with skirts/dresses and with pants without them feeling like you're wearing a huge, tall boot.  I will be wearing these on repeat all fall.
No. 3
You guys, remember this black target dress I shared a few weeks ago that I lived in when in at the end of the summer – well, this is my new LBD for the fall.  I LOVE the simplicity of this dress.  Throw on some cool sneakers and a big chunky sweater and you not only look pulled together – BUT ARE COMFY!  Becuae let's be honest unless a dress is comfortable, it's collecting dust in my closet.
No. 4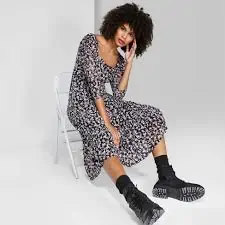 Target is seriously killing it these days with simple, easy, everyday dresses.  I am a huge dress fan in the fall.  I just find them more comfortable than jeans.  And this one is no exception.  Plus I love the floral pattern and square neck.  For $28 this is a simple run around outfit with a leather jacket or big sweater and some sneakers.  
No. 5
You all already know that I'm into clean living and have been really conscious about swapping out all of my beauty products for cleaner, safer options.  Well, that includes nail polish too.  I know.  Ugh.  Such an easy one to forget about.  But the truth is most nail polishes contain a lot of nasty junk (including formaldehyde).  And it lives on your nails for up to a week at a time.  Thankfully there are a lot of great options out there today for cleaner, safer nail polishes – including this one from Cote.  This one goes on great, comes in every shade under the sun and is about at "clean" as you can get when it comes to nail polish.  
No. 6
I am a huge fan of Everlane.  I love their pants, the oversized blazer, and just about everything they make.  They have great staples that are super chic, and this is sweater is no different.  A great basic staple for the fall.  I love that its cotton (I hate itchy sweaters), has great texture to it, and the color is so beautiful.  I love all things white and wear it ALL year-long (especially in the winter!).
No. 7
I saw this skirt a while ago but couldn't get my hands on it because it sold out so quickly.  So I was so excited when another friend just shared with me this week that it's back in stock!  I love this fun pattern (it kind of reminds me of my family room pillows and ottoman – which I'm not sure if that's good or bad ;).  Super cute with a chunky sweater and (these black boots ;)) or sneakers.  Just a fun easy staple for fall.  
No. 8
So you all clearly know that I'm a huge fan of CBD products, but one of my favorites is this CBD oil from Herbivore.  It honestly just works so well.  I have very dry, sensitive skin, and this immediately helps calm my skin and reduce all of the redness.  It's like an anti-inflammatory for your face – which let's be honest, we could all use.  And it moisturizers my skin on a level that many other things can't without leaving my greasy.  If you can only buy one thing for your skin this fall, this would be it for me.    
That's it for this week, my friends.  I've loved working on this series the past month, and would love to hear your thoughts too!  Are you still enjoying it?  What do you want to see more of/less of?  Feel free to share your thoughts with me.  I want to make sure this series is fun and helpful for all of YOU!
Ok, off to go meet my friend Shannon (who you all know from House of Shan) for a quick working lunch.  Hope all of your weekends are off to a great start!
xoxo,
Katy